BETTER - EFFICIENT - AUDITING - NOW

BETTER EFFICIENT AUDITING NOW
Bean is a digital program for audit trainees
It is a complete simulated audit taking trainees from pre-engagement activities to wrapping up
This is an educational application and a learning tool which is accessible to users computers via a virtual desktop application
The Bean application includes the following features:
Does traditional training work? NOT WITH THE NEW GENERATION OF LEARNERS! Massed learning interventions (long training sessions) can lead to over-confidence as large chunks of material
are "learned" in a short space of time. When learning, we forget new
information at an alarming rate!
So how does BEAN counteract this? By breaking learning into bite size chunks!
Firstly, BEAN allows learners to work through the modules at their own pace
– allowing them to personally adjust the time taken to complete a module for their preferred learning style and understanding. This results in less frustration from learners who are left behind because the class has moved on; or be bored discussing a topic they know well! In addition, BEAN allows learners to go back and revise their learning whenever; wherever they are – giving you an on-the-job training manager at the click of a button! REMEMBER: Ebbinghaus stated that the best way to counteract the Forgetting Curve is to review the materials in the first 24 hours after learning the information! BEAN allows for continual revision of the materials.





THE BENEFITS OF DIGITAL LEARNING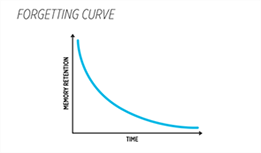 INTERESTED
If you are interested in BEAN for your audit trainees or you are an auditor who simply wants to refresh their knowledge, please leave your details in the form below and we will contact you shortly.
If you would like to see a DEMO of the BEAN software before purchasing a license. Please click the below link.
SUBSCRIBING TO BEAN
The cost of BEAN for a 12 month subscription is £60 per trainee.
Should you purchase more than 10 licenses a 10% discount applies.
To subscribe now please click the Subscribe Now button.
To get more information please fill in the contact form below and we will contact you shortly.